Needless to say, if there is a heaven for trekkers in this world, it is Nepal, and if you want to accomplish your dream trip in Nepal, you must engage a skilled, experienced, trustworthy, courteous, and responsible trekking guide or porter. Hiring a sherpa trekking guide, porter, or climbing guide is highly recommended when hiring a trekking guide or porter in Nepal. Accessible Adventure is a locally owned trekking, tour, and travel organization where you may meet and trek with highly trained local sherpa climbing guides, sherpa trekking guides, or sherpa trekking porters from Nepal's most popular trekking regions- Mount Everest, Langtang, and Rolwaling.

Hiring a Guide and a Porter for a Nepal Trek
A good and experienced trekking tour leader or at least one porter cum guide is required for a safe and secure mountain vacation. Of course, the major hiking routes to Everest Base Camp, Annapurna Base Camp, and Langtang Valley, among others, are easy to navigate, yet several single hikers go missing every year. Posters featuring the faces of missing solo hikers may be found throughout Kathmandu and in other hiking locations. We recommend that you hire a guide or at least a porter cum guide for your trip to Nepal. You may pay a guide compensation of a few dollars and ensure that your vacation is enjoyable.
We have standby guides, porter cum guides, and porters in Kathmandu, Lukla, and Pokhara for Everest Area Trekking and Annapurna Trekking.
Guide
Most trekkers believe that a guide's job is only to show them the trail, but a guide is also a source of hiking information, an organizer, an assistant or a helper, a media to the locals, a non-paid ambassador of Nepal, and a friend who can assist you if you become seriously ill in the high mountains. Even in the middle of the night, your guide goes down for the fastest aid if you are in an emergency to organize the quickest rescue and looks after you in the High Mountains. A guide also shows you areas of interest, talks about traditions, customs, and religion, shows you shortcut trails, and asks locals about route conditions, making your vacation more beautiful and unforgettable. We and our guides are highly experienced and well-trained by the Government of Nepal's Ministry of Civil Aviation and Tourism, and we are passionate about our work. Hiring a guide or, at the very least, a porter cum guide is recommended when hiking in rural areas of Nepal.
Porter Cum Guide
A porter guide transports your stuff as well as takes you on the trek and knows a little English, but only enough to converse and comprehend your interests. They are nice, friendly, and serious about their work, and they stay with you during your trekking or climbing trip in Nepal. The porters and guides come from remote communities in Nepal.
Porter
A strong person from a remote mountain community who carries your baggage and does not speak English, but is nice, friendly, and sincere, as are guides and porter/guides. They may have to remain separate from you throughout the journey because most lodge owners in the Everest region do not allow porters to stay in hotels, so they hunt for porterhouses and inexpensive meals. The majority of the porters are from rural communities in Nepal looking for seasonal labor.
What are the advantages of hiring a guide and porter from Lukla, Pokhara, or other towns?
You do not have to pay any extra airplane fees or ground transportation for a guide and porter if you hire a guide from Lukla - the primary entrance to Famous Everest treks and POKHARA to Annapurna Region. We, the Accessible Adventure affiliated with Wilderness Excursion, can arrange guides and porters on your behalf in Lukla, Pokhara, and Kathmandu.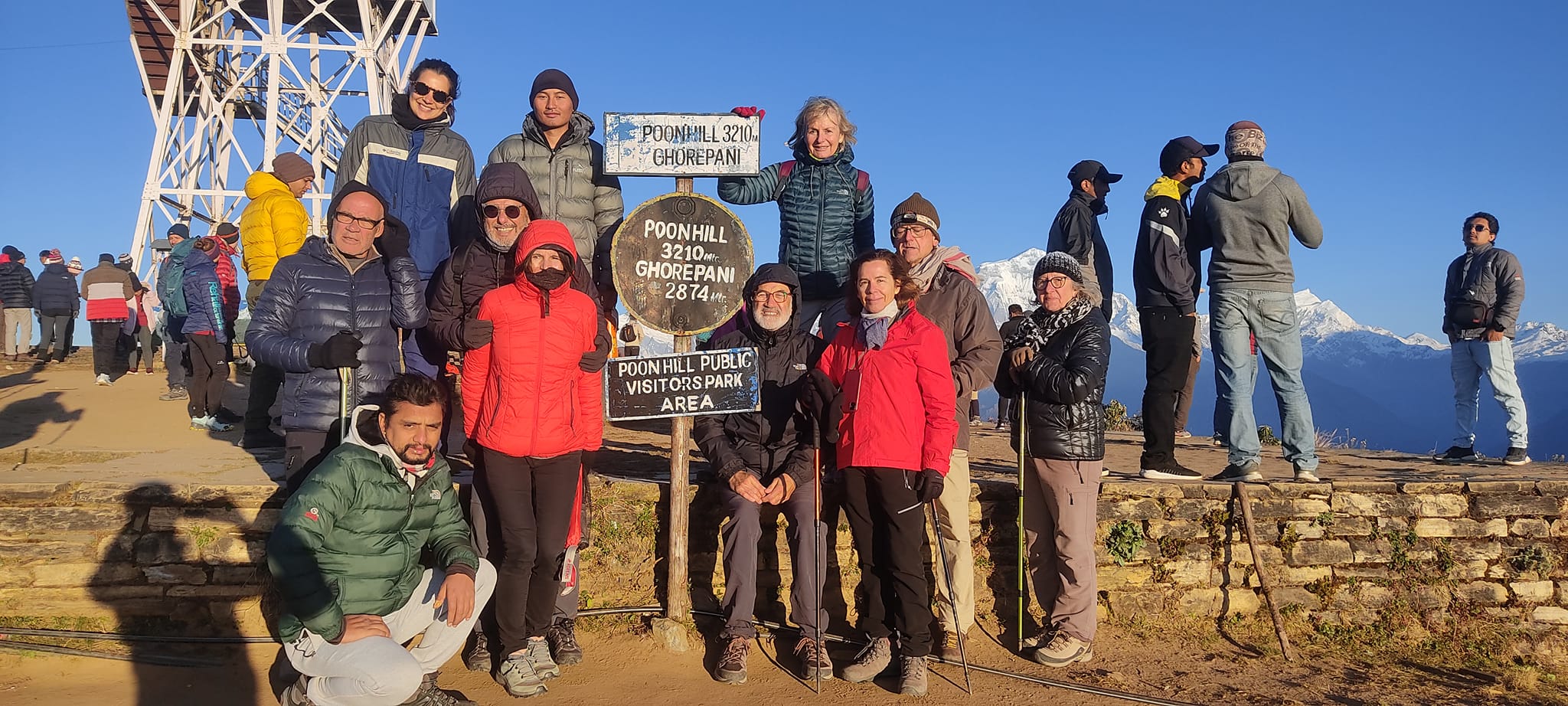 Reasons to Hire a Trekking Guide in Nepal
Itineraries and navigation
Most hiking routes in Nepal are pretty straightforward. If you're unsure, you may always ask locals or other hikers for advice. As a result, navigation is not the primary reason for hiring a hiking guide in Nepal. However, there may be some perplexing spots with unmarked junctions or regions where new roads have been built overtop old hiking paths, which your guide may assist you with. Many Solo trekkers had traveled an additional hour downwards by accident and had to come all the way back up... in the pouring rain. Oops!
Where your guide comes in handy is knowing the hiking route through and out so you can plan an agenda that works for you. Within a day or two, your guide will be familiar with your hiking speed and preferences and will be able to change lunch and break breaks to fit them. You may ask your guide, "How long till lunch?" and he will know the route well enough to tell you that it is 90 minutes away at your speed, even if the guidebook says otherwise.
Hiring a trekking guide in Nepal who is familiar with the terrain is particularly beneficial when the weather is bad: 
A hiking guide can also make more severe alterations to the route on the fly:
Advance Reservations and Logistics
When your aircraft lands in Kathmandu, all you have to do is put on your boots and go walking; your guide will do the rest. Your trekking guide can handle all of the advance reservations and logistics for you, such as reserving hotel rooms in Kathmandu, Pokhara, Lukla, or elsewhere, arranging transportation to and from the trailhead (by bus, jeep, aircraft, and so on), and picking up hiking permits. Of course, you can accomplish all of this on your own, but some of it can only be done in person in Nepal, so you'll need to take an additional day off to run errands. Things are far preferable to have a guide take care of them. When planning your journey, you may also contact your guide for packing suggestions or to ask about concerns about the walk.
Your guide will know which guesthouses in the hamlet offer nicer accommodations or better cuisine while you're on the path (although they are usually all fairly similar). He'll also know which guesthouses offer Western-style restrooms and more consistent hot showers (essential information!). A guide can also make a reservation at the next guesthouse (which is only necessary during the busy season). Often, your guide will have a strong working connection with the employees at the guesthouses and will be able to obtain you a room with a view or an ensuite bathroom. 
If you prefer to hire a porter instead of carrying your own stuff, your guide may arrange for one and assess how many porters your party will require. It will normally be someone from the guide's trekking agency or someone they have previously worked with, so you won't have to worry about someone sketchy fleeing down the route with all your belongings. In addition, while most guides are not porters (you pay them to accompany you, not to carry your belongings), they may help share the burden in a situation.
Although most Nepalese speak at least a few words of English (and many speak it very well), hiring a trekking guide in Nepal can assist interpret or clarify what you want. Our guide assisted us in ordering food at guesthouses in order to inquire about menu replacements or simply to see what was new that day.
Trekking in Nepal is a cultural experience rather than a nature adventure. You may see beautiful mountain vistas and untamed forest jungles, but you will largely be hiking through communities where locals live and farmed for generations. And when you're on the path for hours on end, you have to find ways to pass the time.
You save money while helping the local economy.
Hiring a hiking guide in Nepal may appear to be pricey, but it is actually very affordable for Westerners. A qualified hiking guide in Nepal costs roughly $20-30 USD per day (as of fall 2016). (plus tips of course). It's around the price of a fast-food dinner back home when shared between two individuals. According to what I've heard, the guides are properly compensated, and working as a trekking guide is a well-paying career.
Unemployment and poverty are widespread in Nepal, and many men depart for the Persian Gulf or South East Asia to work as laborers, sending money home to relatives they cannot afford to visit. Hiring a trekking guide in Nepal helps offer crucial jobs for Nepalis, allowing them to spend more time with their family.
Tourism is Nepal's most important economic industry. However, the 2015 earthquakes deterred many visitors from visiting Nepal. Some cultural monuments and a few hiking routes were damaged by the earthquake, but most of the trekking routes (including the Annapurna Base Camp route that I walked) were completely undamaged. Nepal's tourist sector is hurting, and one of the greatest ways you can help Nepal recover is to visit and spend money at local companies, especially trekking organizations.
Trekking in Nepal is gorgeous and, for the most part, not difficult, but it is not easy. The countless stone stairs to climb and descend, the volatile weather, the thin air at altitude, and the long days on your feet may all take their toll on your mental health. A skilled guide will keep you entertained by teaching you cultural information, recommending you stop for a hot cup of tea, cracking jokes, or pointing out a lovely waterfall you might have missed while gazing at your boots.
Is a Guide or a Porter required to trek in  Nepal?
First, the distinction:
(1) A guide should be able to speak fluent English and explain to you about the things you visit. They can help you choose lodging and bargain with tea houses and restaurants. A hiking guide will not transport your equipment.
(2) A porter transports your equipment for you and no one else (20kg max). They don't commonly use English. Most people can carry two backpacks that are strapped together. However, it is critical that you do not take advantage of the porter. They are usually very proud people and will attempt to handle items that are simply too heavy. That is not a good thing.
(3) I would suggest leaving heavy baggage at your hotel rather than hiring a porter to carry anything you will not need on the hike. However, if you want to transport photography equipment such as SLR cameras and tripods, hiring a porter might be really beneficial.
(4) There are also porter guides. They have been porters and are now virtually complete guides, however, they may still be working on their English or accumulating trekking hours. They can transport part of your belongings, but not as much as a complete porter.
Is it safe for a woman to hike alone in Nepal with a guide?
Many women hike in Nepal, both in groups and alone. It is critical that you are at ease with your guide. The vast majority of guides are men. However, if you are uncomfortable with a male guide, there are several firms that only use female guides and porters. However, these guides are far more expensive, and even when booked, they appear to be unavailable once you get to Nepal. Take precautions. All treks include registration points where your information is recorded. Again, the greatest suggestion I can provide is to choose a reputable guide with a proven track record.
You should also perform the following for your own peace of mind:
Inform your friends and family about your plans.

Purchase a data-enabled SIM card to remain in touch with people (this will not work everywhere, but it will help). Send a picture of your guide and his license to your friends and family. Make sure the guide and/or trekking agency are aware of your actions.

It is worthwhile to learn about lone female travel in Nepal.
What to expect when hiking with a guide in Nepal
When it comes to the obligations of a guide on a journey, it all relies on what you agreed to at the outset.
(1) They may assist you in obtaining a hiking permit before you depart.
(2) Generally, guides will not carry anything for you, but will generally have a light coat on hand in case you get stranded.
(3) They do receive a commission from guesthouses and the like, and they do pay far lesser prices for lodging and meals than you do. This is hardly much when compared to Nepal's annual pay.
(4) The cost of food and water rises with height since it takes more work to carry things up there!
(5) Tipping a guide was not common practice until roughly 20 years ago (it is not part of traditional Nepali culture). However, when it comes to hiking, it is currently considered normal. The average is 10% of the trek's worth, depending on how well your guide performed. If you hire a porter, ensure sure the guide divides the cost with them. Again, tipping is optional - it is depending on whether you believe the guide went above and above as a hiking guide!
(6) It is your responsibility to ensure that you are adequately dressed, equipped, and physically capable. While your guide can assist you, it is still your walk!
(7) Important: COVID-19 limitations may be in effect until 2022. Please read my COVID-19 in Nepal updates as well as my Nepal Visa page. Similarly, you'll require a negative PCR test to enter several areas of Nepal.
Do trekkers or climbers in Nepal need to hire a trekking guide or porter?
Except for restricted trekking locations such as Manaslu Tsum Valley, Mustang, Dolpo, Kanchenjunga, or the Dhaulagiri circuit, other prominent trekking destinations like Everest, Annapurna, and Langtang are available to hike without a trekking guide or porter. However, for safety reasons, it is not recommended to hike alone or without a guide or porter. Few trekkers have gone missing in the previous 15 years when they went trekking without a sherpa guide or porter. So, for your safety and the greatest trekking experience in Nepal, it is strongly advised to hire both a trekking guide and a porter for all treks in Nepal.
How do I go about finding a hiking guide in Nepal?
In a nutshell, look up 'rent a hiking guide in Nepal' on the internet.
When searching for a guide on the internet, you will come across companies that provide guide services. Some visitors desire great hiking guides and are willing to pay a premium for them. Similarly, travelers looking to conduct budget trekking in Nepal used to look for low-cost guides.
It is a simple approach to finding a guide in Nepal. You may acquire daily pricing for both hiking guides and tour guides. You may hire a guide for your Nepal vacation for as little as $20 to $30 per day.
What is the cost of hiring a guide in Nepal?
The cost of hiring a guide is determined by trekking companies, the length of the walk, the difficulty of the trek, and a variety of other factors.
According to Accessible Adventure Pvt Ltd's guide hiring policy, daily prices range between USD 21 and USD 27. (depending on route)
What exactly is a trekking guide?
A trekking guide/leader is someone who can lead hikers in the Himalayas. A trekking guide must be knowledgeable about trekking locations and be licensed by the Nepalese government. Nonetheless, a guide should be communicative, humorous, honest, and helpful. There are several things that a trek leader should have.
A guide informs guests about the journey and may assist if something goes wrong in the mountains. He or she will be the first person to help you 24 hours a day, seven days a week on your mountain adventure.
Things to Consider Before Hiring a Guide/Porter in Nepal
There are several agencies that provide guide porter hiring services. Finding the right guide and porter, on the other hand, is a challenging undertaking. Accessible Adventure Pvt Ltd is a reputable trekking company that provides excellent guides and porters at reasonable rates. Male and female guides are available. While traveling with us, your satisfaction with security is our first priority.
Is it feasible to hire Nayapul as a guide?
It is possible to hire both a guide and a porter in Nayapul, Myagi. Having stated that, doing a task on your own is difficult. It implies that if you go there and explore the surrounding region for your trip, you may find what you're searching for, but the price will be considerably more than THROUGH LOCAL TREKKING AGENCY.
We have links with guides and porters in Gandruk (near Nayapul) that may be quite suited for you in terms of pricing, confidence, and trustworthy services.
If you need trekking personnel from Nayapul for the Ghorepani Poon Hill Trek, Annapurna Base Camp Trek, or Khopra Ridge Trek, we can give you both a guide and a porter at a lower cost. You do not have to pay because they are close to the beginning and end points.
Is it feasible to hire a trekking guide and porters from Lukla for a journey to the Everest region?
It is feasible to get. Many Nepalese guides and porters are eager to greet you if you are looking for helpful teams for your trip to the Everest Region.
It is quite difficult to find a guide that is fluent in English in Lukla. They are from the mountains, and their educational background is limited. The degree of English proficiency will serve as the foundation. This is something you should be aware of before reserving them for your valuable hiking adventure in the Everest Region.
What can you anticipate from LUKLA'S LOCAL GUIDE?
Because of the flight expense from and to Lukla, the guide from Lukla will be less expensive than the guide from Kathmandu. You will save GUIDE's flight price. However, if you plan on coming to Lukla and hiring a guide through a hotel or elsewhere, we are confident that the daily costs for a guide would be greater than through local trek companies.
If you need a BASIS ENGLISH SPEAKING GUIDE, we can give you one at a reasonable price and with dependable service.
Is it possible to hire a Trek Leader (Guide-Porter) from Aarughat or Machha Khola?
The MANASLU CIRCUIT TREK now departs from Machha Khola rather than Arughat. Because Manaslu Circuit hiking requires a guide (because of the limited nature of the region), you must go with a guide. BASE CAMP HIKE can organize hiking teams from Kathmandu, Arughat, and Machha Khola.
Why should you hire a guide and porter from Kathmandu?
Accessible Adventure can offer guide and porter services to any trekking destination departing from Kathmandu. You don't have to worry about anything when you have a guide from Kathmandu to look after your stuff. From the beginning of your journey in Kathmandu until the finish, you will be accompanied by a guide and porter. All hiking permits, documentation, transfer to domestic airports or bus stations, and meals will be taken handled of by your guide and porter. If your aircraft is delayed or there is a traffic block on the way, your guide will re-arrange everything for you.
Are the guides licensed by the government and experienced?
Yes, all guides are government licensed, speak fluent English and local languages, are first aid trained, are informed about the destination and Nepal in general, and are knowledgeable about local culture, local people, local traditions, religion, and people's way of life.
How much does a guide cost and what is included?
We provide the greatest pricing for a guide or trekking leader, which is about the US $ 25-35 per day. It covers all of their food, lodging, salaries, equipment, insurance, government taxes, and service charges.
What is the distinction between a guide and a guide cum porter?
We recommend hiring a guide/porter for individual guests to help with baggage and guiding at the same time. Guide cum porter assists you in carrying around 10-15 kilos. Guides and porters are licensed by the government and have extensive expertise on trekking routes. They are not like guides who can speak decent English because they have been upgraded from Porter.
How much does a guide cum porter cost, and what is included?
We provide guide and porter services for only US $ 22 per day. It covers all of their food, lodging, wages, equipment, and insurance.
How does the guide cum porter transport your luggage?
We ask that you carry a backpack (usually 60-70 liters recommended) that fits your possessions, which should be no more than 10 kg, and that he handles his own luggage there as well.
Only require a porter?
Our porters are strong, trustworthy, well-equipped, and experienced. In this location, we specialize in guiding porters for greater information and understanding.
What does Porter cost and include?
We provide porter services at only US $ 20 per day. It covers all of their food, lodging, wages, equipment, and insurance.
How much luggage can a porter carry and how does he transport my luggage?
Porter's weight limit is around 20 kg, although he is willing to carry 2-3 kg more or less. The company will give you a duffle bag to carry your belongings, but if you have your own backpack, that is also OK.
What if the guide/porter was injured or became ill during trekking?
Our tour guides and porters are fully insured for medical, accidental, and helicopter rescue services. We'll figure it out.
How do you find your guide/porters?
Our tour guide/porter will greet you at your hotel or our office. We'll provide him with your name, room number, and hotel name. Then you may talk about the next day's trekking plans and departure time. We will also offer you his phone number so that you may contact him directly.
How should we organize our bags for the porter to carry?
If you are hiring a porter alone for yourself, bring a 40- 50 liter backpack for the porter to carry, but if you are sharing a porter with another person, bring a 90- 100 liter backpack or utilize our company's duffel bag.
Do I have to pay for the food and housing of my guide and porter?
No, the guides and porters eat and stay at discounted rates at trekking lodges that they pay for with their salary.
Is it necessary for me to pay for my guide's transportation?
Unless otherwise noted, you will be required to pay for both your guide and your own transportation in most circumstances. A transport price is not included in the aforementioned per-day cost for treks that require aircraft.