Introduction
Accessible Adventure
Located in Thamel, Kathmandu, Accessible Adventure offers excellent treks and tour services. We have been offering the best caliber tourism services ever since our foundation in 2012. We began with a small group of enthusiasts eager to help travelers who wanted to tour Nepal, India, Bhutan, and Tibet. Despite the fact that we have come a long way, our perspective on travel has not changed, and we still have the same enthusiasm that we did at first.
Accessible Adventure promises you expertise, reliability, and ease. Our decade-long experience of Traveling in Nepal and other Himalayan regions means that we know the ins and outs of conducting excursions in the region. For seasoned travelers and thrill seekers, we create custom holiday packages that offer the ideal blend of flights, hotels, transportation, attractions, and other amenities. While you unwind and take your vacation in Nepal and the subcontinent, let us do the work.
Our carefully thought-out and varied itineraries will introduce you to the area's culture, history, and regional food in addition to its breathtaking natural beauty. This is how we think of travel—as a comprehensive encounter with something greater.
Expertise
All of our mountain guides have the necessary licenses and experience. They have received significant training in first aid, crisis management, and wilderness rescue. Your tour will be conducted with carefully chosen guides, and all necessary safety and security measures will be taken. Our founder has taken several trips outside of Nepal and has advocated for Nepali tourism on numerous international stages. We are thus aware of the requirements, goals, and anticipations of foreign tourists. That's what distinguishes us. a significant body of knowledge, practical experience, empathy, and a strong feeling of obligation.
Ease
Book your trip with us with ease and simplicity using our interactive website or contact us through email or any other communication media. We will be sure to reply as soon as we can and will help guide you through the basic planning of your trip and offer any advice possible. The way to book our trips is outlined below: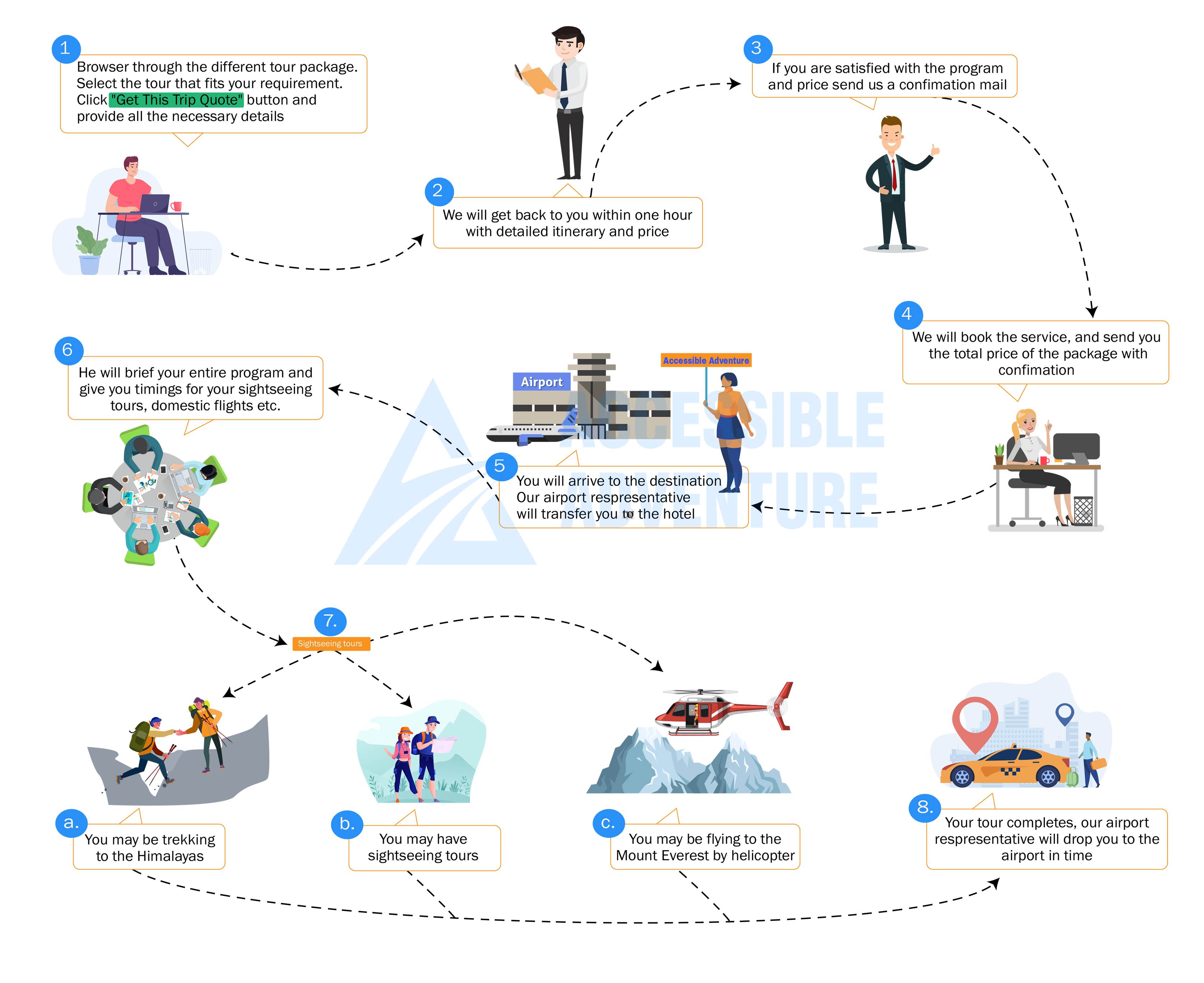 Holistic Tourism
While most tour companies merely take you to the place and get you in contact with the people and cultures, Accessible adventures want you to experience something more. Holistic tourism for us involves experiencing tourism in such a way as to be a life-changing experience. Our guides and trek planners are well versed in the spiritual and cultural significance of travel in the Himalayas. Not only will you be exposed to wonderful natural beauty, but you will get a chance to open your mind and soul to the wonderful spiritual life of the Himalayan people, which will definitely widen your horizons and change your outlook on life forever.
Reliability
Traveling in the Himalayas is not easy. It is highly unpredictable and thus demands a certain degree of flexibility on both the part of the guide as well as the traveler. Rest assured, our team will make all efforts to make sure that your Himalayan trip runs as smoothly as possible and we will be ready and available at all times to respond to any changes in need or circumstance. Our decade-long feedback from guests has proven our reliability and trustworthiness. The welfare of our guests is our number one priority as we live by the saying popular in Nepal "Guests in your care are to be treated as Gods"