As the world progresses towards equality and liberalism, we at Accessible Adventure have also been promoting the participation of women in the tourism sector of Nepal. We firmly believe that it does not matter what gender you are, as long as you have the relevant skills and competency, you should be allowed to grow and contribute in whatever sector you choose. Mountains, stupas, local shrines, and villages can be explored and information and guidance about them can be given by anyone regardless of gender identity. 
Ever since the late 1990s, the number of female guides and trek leaders has been increasing at a respectable rate. However, in Nepal, the rate of increase of female guides has not been able to keep up with the increased number of female travel enthusiasts around the world leading to a demand-supply imbalance. We at Accessible Adventure however have been doing our utmost to remedy this imbalance. This is for us, a step towards true equality. It is only through capability building that women, especially in a country like Nepal can become truly independent. For a country and society to truly develop, an entire half of the country's intellectual and labor force cannot be kept in a vulnerable state. Our small team consists of several female trek leaders and we hope to increase that number as we head into the future.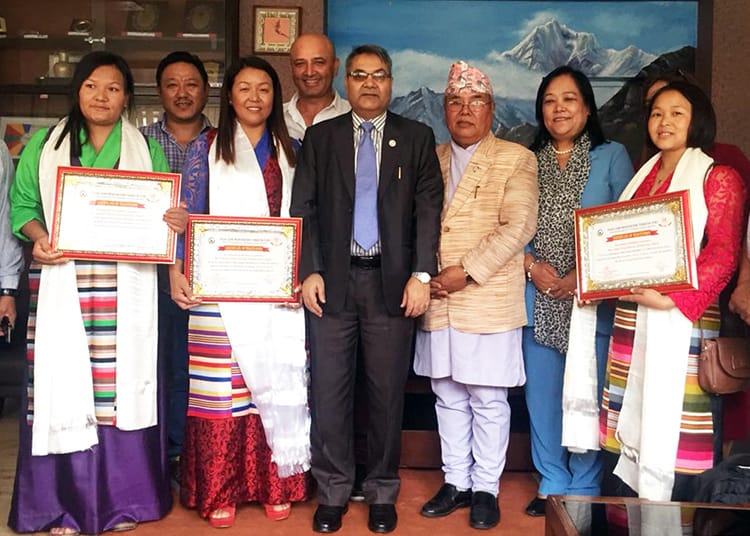 Female Tour/Trekking Guides in Nepal
Female tour/trekking guides in Nepal do not have a lengthy tradition. The notion of female leaders does not arise until the 1990s. Since then, the number of female tourists guides has grown.
As the number of female visitors grows across the world, so does the need for female guides. In Nepal, the proportion of female tourists guides is expanding in the same way.
The number of girls training to be tour guides and hiking guides appears to be pretty satisfied these days. As a result, you may find female guides fast when undertaking tours and hiking destinations in all regions and places.
Female Trekking Guides in Nepal 
Trekking is no longer considered a male-only adventure. With a growing voice for fairness, equality, and independence, Nepal's trekking sites can draw a large number of trekking enthusiasts from all over the world.
Everyone saw the need for female trekking leaders as the number of female explorers increased, as did their needs and complaints about some of the difficult situations they had to face.
Now, the women trekking leaders have been guiding several groups in the usual routes and the high passes, circuit treks, and base camps of the tallest peaks, allowing people to enjoy themselves to the maximum. They have already demonstrated that they are as daring as any male leader.
Along with their knowledge of the highlands, lakes, hiking routes, religious sites, customs, traditions, ethnicity, and hospitality, they are also proficient in English and a few other languages, ensuring that there will be no language barriers while trekking. Unfortunately, the language barrier might ruin your entire hiking vacation.
The need for female trekking guides
With an increasing number of female travelers around the world, many of whom travel solo or in groups of female friends, the demand for female trekking guides has increased. It is the same in Nepal. Nepal's beauty, culture, and overall mystical feel have attracted many tourists, regardless of gender. However, a steady increase in female travelers to Nepal can be seen. 
The needs and basic necessities that female travelers need to ensure are different from what men would. This has led to an increase in the demand for female tourists guides. It is unfortunate to hear of the many injustices and problematic circumstances that many female travelers have had to bear in the absence of female guides. Thus, as the need arises, so must we as responsible travel companies answer the needs. 
Now, the female trekking leaders have been guiding multiple groups over familiar itineraries, including high passes, circuit treks, and base camps of the highest peaks, all while ensuring that their clients have the time of their lives. They have already demonstrated that they are just as courageous as any male leader could possibly be. Our female tour and trek assistant  are as knowledgeable and experienced in the mountains as any other leader of any gender identity. 
The status quo of female trekking guides in Nepal 
In recent years, there has been a significant spike in the number of women working as tour guides. A Bachelor's degree in any field is required in addition to seventy days of specialized training from an institution that is accredited by the government in order to become a tour guide. Because of this, they are not only highly educated but also highly trained, and as a result, you will walk away from a single tour with a wealth of information regarding the history, culture, and religions of the area, as well as iconography, archeology, flora, fauna, wildlife, geography, temples, heritage sites, and more. This need is a prerequisite that must be met by all tour guides, irrespective of gender. However, in the past, females who were interested in becoming guides were discouraged from doing so because of the patriarchal makeup of society.
Even now, as a result of a wide variety of problems, the number of female travel assistant does not meet expectations. They have a number of personal and family issues, and thus they decide to leave this career. Cooperation is still required for them to achieve independence, self-sufficiency, and the development of the confidence to make their own judgments. There are over two thousand travel agencies spread out over the country, and the majority of them use female tour operators exclusively.

Female Tour Guides in Nepal 
The number of female tour guides has steadily expanded in recent years. Every year, over two million visitors arrive in Nepal, with nearly half of them opting for a trip. (You can choose between a city trip, a religion tour, a cuisine tour, a cultural tour, a heritage site tour, a jungle safari, or a day hike.)
There are over 2,000 travel agencies in the country, and the majority of them offer distinct female tour operators. Female travelers, female solo travelers, and family travelers are typically served by female leaders. However, this does not rule out the possibility of female passengers being assigned to male leaders. We provide female leaders in response to the situations and specific requests.
A bachelor's degree in any area plus 70 days of specific training from a government-approved school are required to work as a tour guide. As a result, they are well educated and trained, and you will get a wealth of knowledge about history, culture, religions, iconography, archeology, flora, fauna, animals, geography, temples, historical sites, and much more in a single trip.
However, there are a considerable number of female trip guides that leave this career owing to a variety of personal and familial issues. They still require cooperation to become autonomous, self-sufficient, and confident enough to make their own judgments.
Who are female trek/ tour guides especially assigned to? 
Although female trek/tour guides are not restricted in performing their duties, the request of female travel assistant specifically is reserved for female travelers, whether it be solo or in groups, and couples. It has been noted that a number of female travelers opt to go on their trips alone, without a guide. Having a guide is extremely essential in Nepal. Taking a tour with a guide eliminates stress, makes the experience more enjoyable, and provides more comfort. The dread of being harassed, which is uncommon, the discomfort of the unavailability of rooms in teahouses (in trekking), and the concerns that come along with camping are problems that are especially difficult for women who trek alone.
Thus, while female trip guides are open to guiding any team, requests for a female trip guide will only be entertained by female travelers, groups, and couples. 
Why Accessible Adventure for female trip guides? 
At Accessible Adventure, we want the tour and trek to be most pleasant for both you and the guides, porters, and others who lead our many treks. Our firm belief that travel is for all has empowered us to hire female trek guides who work hard to support their family and themselves. 
We provide equal opportunities to our female guides to grow and develop. All of our female guides have gone through rigorous training and have led many treks into the Himalayas. The females who work as guides with Accessible Adventure all possess appropriate government credentials. They have both academic knowledge and practical expertise in the subject matter. They will keep you informed on the history, culture, tradition, festivals, costumes, manner of living, archeological significance, flora, and fauna all along your route. In general, every female tour guide is accommodating, complaisant, kind, linguistically proficient, dedicated to the tourism industry, and responsible for their respective duties. In addition, every single member of this agency's team is directed by our very own organizational norms and regulations, which place an emphasis on the complete fulfillment of our customers' needs.
Our female guides are known across the industry as being among the most professional, ethical, and experienced guides available. They are versatile and able to accommodate any immediate requirements that you may have at this moment.
Here are a few reasons why you should employ Accessible Adventure Treks & Tours guides.
Professional 
Every one of our tour guides has been trained, is informed, responsible, helpful, compassionate, and informative. They are, however, more than just mentors; you will never feel alone. They are all humorous, always smiling, engaging, and have a terrific sense of humor.
First and foremost, safety.
Although Nepal is one of the safest nations, with few incidences of harassment, your safety while on tour/trekking is our first priority, and we adhere to stringent criteria to ensure the prevention of any hazards such as Acute Mountain Sickness, harassment, and so on.
They will check to see whether your oxygen levels are enough while trekking. They will exercise extreme caution and provide appropriate guidance in landslide-prone areas, crevasses, and hazardous routes.
There are no hidden fees.
We do not charge any additional fees for taxes, vats, or other fees. The total amount you will pay for any bundles based on the pricing displayed on the website. Once a price has been agreed upon through email, it will never be changed in the name of sensitive subjects.The focus is on the satisfaction of the guests. Our primary purpose is to satisfy our customers. As a result, each guest is individually preferred to ensure that they have the ideal vacation in Nepal.
Responsible Tourism
We believe in responsible tourism, which works together to reduce negative social, economic, and environmental repercussions. It also contributes to greater economic advantages for local residents and improves the well-being of the relevant communities. This assures a sustainable sector in which visitors will continue to enjoy the beauty that Nepal has to offer.
Adventures to Choose From
We provide a variety of programs, including city tours, day hikes, short and long treks, family treks, adventure treks, off-the-beaten-path treks, adventure sports, religious terms, and peak climbing excursions. You will save time and money by contacting agencies for various experiences.
Bonus Pack
Accessible Adventure provides exceptional discounts for holidays such as Christmas and New Year's, as well as other important festivals in Nepal. So, schedule your vacation during such festivities to take advantage of attractive incentives. It's your turn now!
Professionalism in Service
Finally, Accessible Adventure Treks and Tour is a recognized trekking agency that is linked with governmental tourist agencies.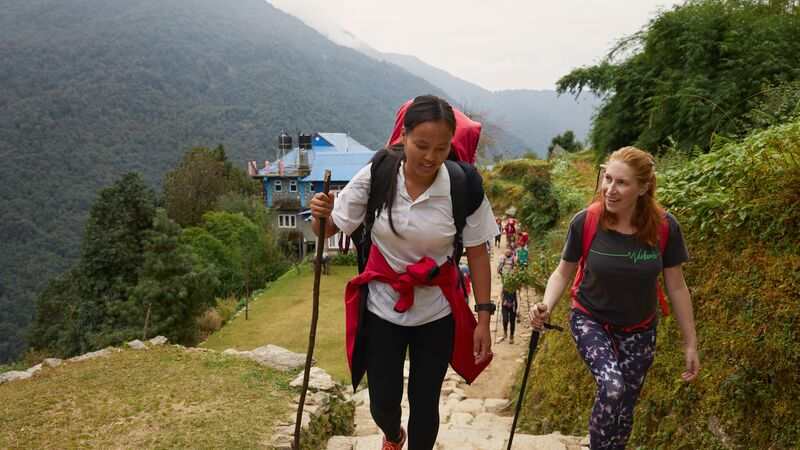 You can find a list of our female guides here. If you read their story and listen to their ideas you will be sure to know just how strong and courageous they are. 
Meena Karki - Trekking Guide
 Meena is from the Kaski district in the Annapurna region of Nepal. Trekking is her passion since her childhood as she grew up seeing trekkers and hikers stepping up the trials for trekking adventure. Following her dreams, she took a female trekking guide as her profession, and now she has more than decades of experience in this field. She has been to Everest, Annapurna, Langtang, Mustang, and most of the trekking regions numerous times around the Himalayan country Nepal. With in-depth knowledge of routes, culture, history, and quick decision-making ability, she will ensure your trekking adventure is even more extra special. 
Alina KC - Trekking Guide
Mrs. Alina has been in association with the tourism industry for over 12 years and has dedicated herself to this field. Her penchant for traveling and experiencing the splendor of nature has charmed her into making her career. She describes nature as an integral part of his life and strives to promote trekking and tourism. Combined with a dauntless and unwavering spirit, she attempts to make every trip, a recreation. Mrs. KC is a credentialed guide with an attachment to her surroundings, which empowers her to make the best use of her compassion and helps our clients connect with nature through trekking.
Jenisha Karki
Miss Jenisha Karki, a cheerful and dexterous lady, is a female trekking guide in Nepal who embraces adventures and always lives up to mountain memories.
Jenisha is a travel and tourism student as well as a Nepalese licensed female trek guide. Her desire to work in the tourism industry, as well as her preference for less used hiking trails, led her to Accessible Adventure. Jenisha, a compassionate and trustworthy female trekking guide, goes above and beyond to make your walk unforgettable.
She gets along well with others and is extroverted as a result of her cheerful personality and caring temperament. She adores photography and spends her leisure time shooting Mother Earth in its best light, in addition to trekking.
Uma Bhatta - Tour Guide
Uma is an easy-going good-natured cultural guide who has been with Accessible Adventure since the beginning. Her knowledge about the history and the culture of the people of Nepal makes her a most valued guide. She tends to give deep and insightful knowledge and information about various sites and destinations that you will be touring. Her deliverance of the information regarding the history and the lore behind the sites and the settings makes for quite an enjoyable tour and adds more flavor to the trip. Having deep knowledge of the cultural aspects, Uma is an expert at conveying the stories that are associated with different destinations for a congenial cultural trip and tour.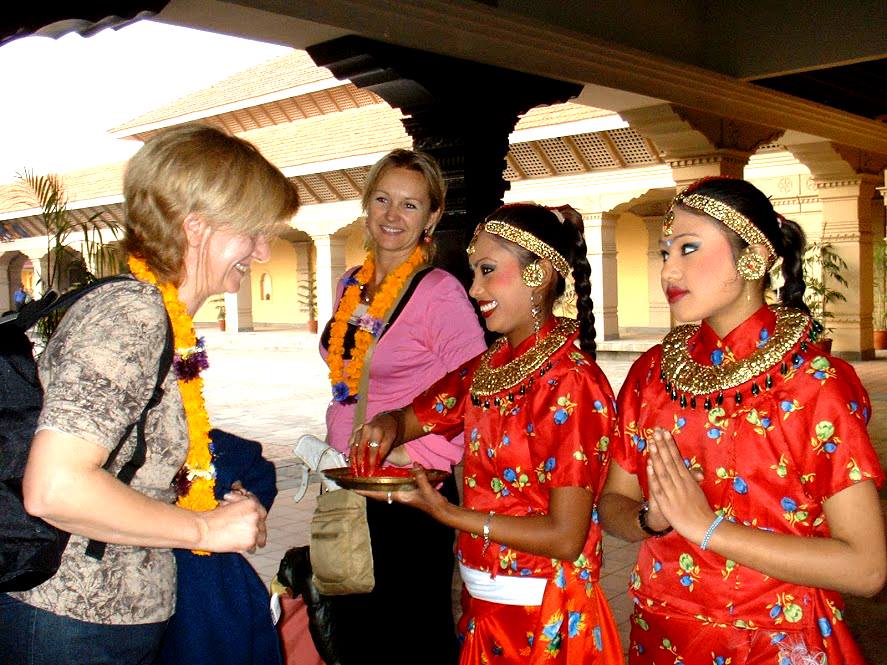 In Conclusion
Nepal is an eternally green tourism destination for all genders. It is unacceptable to let your gender expression prevent you from traveling. Employing a guide not only makes your trip more secure and comfortable but also makes it more accessible and pleasant. We at Accessible Adventure have accepted the challenge of achieving greater equity in order to meet the requirements of the large number of female travelers who are traveling alone or in groups.
We have a firm commitment to providing equitable job opportunities for all individuals. But, sadly, in the past, Nepalese women were not given the opportunity to play significant positions in the tourism business. We are working very hard to change this, as we recognize the importance of empowering Nepalese women.
Accessible is quite proud of our female tour guides, who are standing by to demonstrate just how amazing they are.