Everest is more than simply a mountain, and the journey to its base camp is more than a hike. Every turn in the trail, termed "the stairs to paradise" by some, gives another photo opportunity - gorgeous woods, Sherpa communities, glacier moraines, and slopes. Our complete trekking support personnel will get you close to local cultures before opening a window to the top of the globe for adventurous travelers who aren't scared to break a sweat.
Everest Base Camp Trip is a renowned teahouse trek in Nepal that follows in the footsteps of great mountaineers to the base camp of the world's highest peak. What could be more exciting than following in the footsteps of the world's most famous climbers? Allow us to take you on a classic adventure through the picturesque Khumbu area and Sagamartha National Park in the Himalayan foothills.
You'll be guided by our licensed and experienced friendly Sherpas by day and welcomed and replenished by Nepalese rural hospitality by night until, on the eighth day of your walking journey, you'll have done it - at an altitude of 5364 meters, you'll have reached the world-famous Everest Base Camp where so many famous mountaineers before you have set foot, and be able to witness the staggering skycap of Himalajuma at the closest possible range.
Trekking to Everest Base Camp is by far one of the most popular treks in the world. It includes the most exhilarating and memorable experience of all. If you are looking for quality service Accessible Adventure business provides you with excellent services, guides, and other important items for the journey. We guarantee that you will not be sorry that you chose us.
This is one of the most often asked questions by travelers who go through our schedule and services. When is the ideal time to hike to Mount Everest's base camp?
The question is legitimate since many climbers and hikers are perplexed. In the meanwhile, they are excited about the world's tallest peak, the majestic Mount Everest.
We inform you that the best time to trek to Everest Base Camp is in the autumn and spring. This walk, however, may be planned at any time of year. The change in weather conditions ensures that your hiking experiences will be diverse. So, when you travel on this expedition is entirely up to you.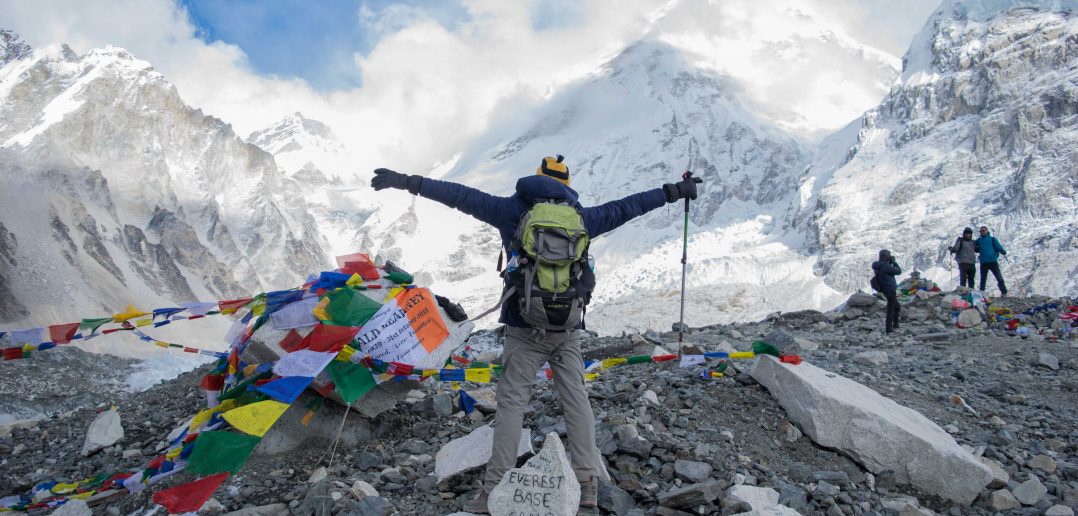 Trekking Seasons for Base Camp on Mount Everest
The optimum months to visit Everest Base Camp are February to May and October to December. The weather is ideal for trekking at this time of year.
However, if you want fewer crowds and prefer to explore the hiking region on your own, there are alternative possibilities.
Everest Base Camp Trek During Spring Season
Many people have questions about trekking to Mount Everest Base Camp in the spring. Because the temperature is not as chilly as it is in the winter, this season is often recognized as an excellent trekking month.
This is also the season when you will have the opportunity to see the important exotic and uncommon bird and animal species. The majority of climbers visit the base camp between April and May. It's also the greatest time to ascend Majestic Mountain.
As a result, the trip to Everest Base Camp in the spring is the finest.
Everest Base Camp Trek During Winter Season
Trekking is also feasible in the winter. However, the difficulties of traversing the terrain grows.
The winter hiking season lasts from December to March. You will notice a significant shift in the mountains at this time of year, with lower temperatures and bigger snowfalls.
Only throughout the day is it warm, and only with little sunshine. The night is bitterly cold. This is not the best season to travel to Everest Base Camp, but many trekkers like the challenge and have returned successfully.
Aside from the freezing weather, the finest part of this season is the clear sky and a breathtaking view of the mountains.
Take safety measures and instructions seriously!
Everest Base Camp Trek During Monsoon Season
The period from mid-June to August is regarded as one of the worst times to travel to Mount Everest Base Camp since the route would almost certainly be hampered by rain.
The wet seasons are expected to dominate the landscape, with regular rainfalls and overcast weather virtually every day. The monsoon season is not ideal for hikers because of the clouds and mist. However, a brilliantly sunny day following the mist and fog will undoubtedly brighten your travel.
Mount Everest Base Camp Height/Elevation
When searching for Everest trekking, the first question that springs to mind are, "What altitude would I be traveling to?" This is a question you should ask yourself if you want to learn about the region's geography. And to adequately prepare for the expedition you intend to do.
The altitude profile is determined by the trip packages you choose. The real journey often begins near the Lukla airport, which is located at an elevation of 2800 meters.
If you ascend Mount Everest, you will be at the summit of the tallest mountain on the planet, at 8848 meters. A trekker to the Base Camp, on the other hand, does not have to climb so high. In actuality, the Base Camp is located at an elevation of 5,464 meters.
The weather in the sites you visit along the trip is affected by height. When compared to higher altitudes, the lower altitudes are relatively warm. As a result, the wind at lower altitudes appears to be safe as well. The temperature will also be determined by the season in which you choose to travel.
| | |
| --- | --- |
| Place | Altitude |
| Kathmandu | 1400 meters |
| Lukla / Phakding | 2800 meters / 2610 meters |
| Tengboche | 3860 meters |
| Dingboche | 4350 meters |
| Nangkartshang Peak | 5083 meters |
| Lobuche | 4910 meters |
| Everest Base Camp | 5465 meters |
| Kala Pathar | 5555 meters |
| Namche Bazaar/ Khumjung | 3441 meters |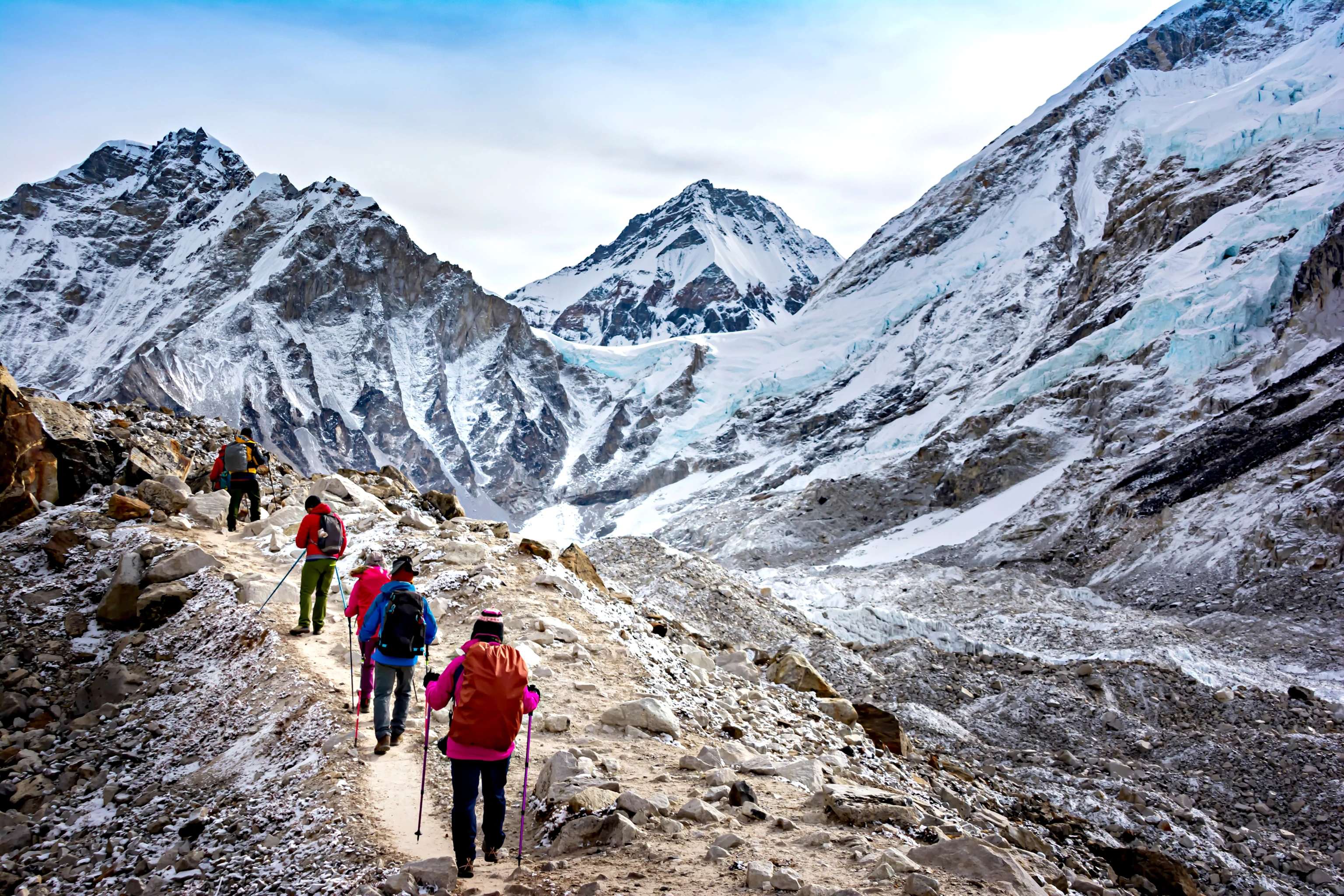 How Difficult is the Trek to Everest Base Camp?
For many trekkers, the Everest Base Camp Trek is a once-in-a-lifetime experience. However, many people find the climb to Everest Base Camp arduous in numerous ways. Most individuals will find this journey difficult.
It is not a tourist journey and requires much training and planning ahead of time. Many trekkers and travel lovers frequently ask us the same question: "How difficult is it to trek Mount Everest Base Camp?"
     

Trekking at a High Altitude
The high altitude is the most demanding aspect of the Everest Base Camp Trek. Most people misjudge EBC's height since they believe it is only the base of Mount Everest and is easily conquerable.
That's when they make a mistake. One of the most difficult aspects is the altitude since individuals are prone to altitude sickness.
One of the most underappreciated disorders is acute mountain sickness (AMS). It can have an impact on trekkers even before they begin their journey. If you continue to travel without taking precautions and disregarding the signs, the journey might be fatal.
The EBC journey begins at Lukla, which is approximately 3,000 meters above sea level. It is sufficiently high to cause altitude sickness. The walk will then begin with a steady ascent.
The route subsequently leads to the trek's highest point, Kala Patthar, which is 5,554 meters above sea level. The hike then concludes at the base camp, which is approximately 5,300 meters above sea level.
You will not be able to accomplish it if you do not follow your guide and plan, especially if you do not acclimate yourself. You may believe that the acclimatization days are a waste of time. However, it is the most important portion of the walk since it stabilizes your body and prepares you for the following altitude.
     

Preparing your body for the journey
Every individual has a unique amount of tolerance and strength. As a result, it is dependent on the individual's performance, fitness level, and capacity to acclimate to high altitudes. EBC is 5,300 meters (18,044 feet) above sea level, and the altitude may catch you at any time, no matter how fit or experienced you are.
This journey does not need you to be a professional climber or trekker. However, many people underestimate the EBC Trek and believe they can do it quickly. However, without proper training before the journey, you would almost surely acquire altitude sickness and have to return.
So, before arranging a journey, the most crucial thing to do is to get some basic training. It will strengthen your body and prepare you for high-altitude hiking. You must be prepared to walk 6 hours a day on tough terrain in changeable weather.
Begin training with simple workouts. Every day, you can walk or climb for a few hours, both uphill and downwards. You may work out in the gym, concentrating on your legs. Aerobic workouts such as running, swimming, rowing, and squatting will also be beneficial.
Everest Base Camp Expedition (Mount Everest Camps)
Mount Everest is the world's tallest peak. Its height is 8,848 meters (29,028 ft). It is also known as Qomolangma, Sagarmatha, and Chomolungma. Mount Everest is located on the boundary of Nepal and China, with roughly half of the peak on each side. Sir Edmund Hillary and Tenzing Norgay were the first to reach the summit in 1953, with Hillary snapping the iconic shot of Tenzing Norgay on the top.
Mt. Everest may be reached by two primary routes: southeast and northeast. Southeast is the most popular route since it is deemed safer and has better access.
The southeast ridge ascent begins with a hike to Base Camp at 5,380 m (17,600 ft) on Everest's south flank in Nepal. Expedition participants normally fly from Kathmandu to Lukla (2,860 m) and then travel through Namche Bazaar. Climbers then climb to Base Camp, which takes six to eight days and allows for sufficient altitude acclimatization to prevent altitude sickness. Climbing equipment and supplies are transported to Base Camp on the Khumbu Glacier by yaks, dzopkyos (yak hybrids), and human porters. Because there were no roads further east at the time, Hillary and Tenzing started their climb of Everest from Kathmandu Valley.
Climbers frequently spend 4 to 8 weeks acclimatizing to the altitude at Everest Base Camp. The "Icefall Doctors" will install ropes and ladders in the infamously unstable Khumbu Icefall during this period. The icefall is one of the most treacherous portions of the path, with seracs, crevasses, and moving slabs of ice. This stretch has claimed the lives of several climbers and Sherpas. Climbers will normally start their ascent long before daybreak to limit the possibility of ice blocks sticking together. Camp I is located 6,065 meters above the icefall (19,900 ft) Camp 1 is mostly a transitional camp, with most climbers staying only one night.
At 6,400 m, Base Camp II, Advanced Base Camp (ABC), is created (21,300 ft). The Western Cwm is a rather level, slowly ascending glacier valley with massive lateral crevasses in the center that prohibit direct access to the Cwm's top reaches. Climbers must cross to the far right towards the base of Nuptse to a narrow corridor known as the "Nuptse corner." The Western Cwm's morphology often keeps the wind away from the ascending path. Climbers may find the Western Cwm extremely hot on a clear, windless day due to the high altitude.
Climbers scale the Lhotse face on established ropes from ABC to Camp III, which is located on narrow ledges at around 7,200 m to 7,400 m. It's another 500 meters to Camp IV on the South Col at 7,920 meters (26,000 ft). Mountaineers must overcome two extra challenges on their way from Camp III to Camp IV: The "Geneva Spur" and the "Yellow Band." A 1952 Swiss expedition dubbed the Geneva Spur, an anvil-shaped rib of black granite. Climbers use fixed ropes to assist them in scrambling over this snow-covered rock band. The Yellow Band is a sedimentary sandstone section. From the foot of the Lhotse face to the summit, the route is usually always totally fixed with a static line.
Climbers on the South Col are extremely near to 8,000 m and can only spend a limited amount of time at those elevations even with supplementary oxygen. Climbers normally have a maximum tolerance of two or three days at this height for making peak attempts. Clear skies and light breezes are crucial considerations for considering whether or not to tackle the summit. If the weather does not cooperate within these few days, climbers are compelled to descend, with many returning all the way to Base Camp.
Mountaineers will begin their summit push from Camp IV between 20:00 and 02:00, with the goal of reaching the summit (another 1,000 m above) in 10 to 12 hours. Climbers will first arrive at "The Balcony," a tiny platform at 8,400 m (27,700 ft) where they may relax and gaze over peaks to the south and east in the early morning light. Climbers continue up the ridge, where they are met by a series of magnificent granite stairs that generally push them to the east into waist-thick snow. The South Summit is marked by a tiny table-sized piece of ice and snow at 8,750 m (28,700 ft) (Peak).
Climbers scale the knife-edge southeast ridge known as the "Cornice traverse" from the South Peak, where snow covers uneven rock. This is the most dangerous section of the climb since a misstep to the left will send you down the 2,400 m (8,000 ft) southwest face, while a misstep to the right would send you down the 3,050 m (10,000 ft) Kangshung face. At 8,760 m, the conclusion of this crossing is an enormous 12 m (40 ft) granite face known as the "Hillary Step" (28,750 ft).
Tenzing and Hillary were the first mountaineers to reach this level, and they did it using primitive ice climbing equipment and no set ropes. Climbers will now ascend this step utilizing fixed ropes that Sherpas have already built up. Once over the step, the ascent to the top is quite straightforward on reasonably sloped snow slopes, however, the exposure on the ridge is considerable, especially when passing extremely huge snow cornices. Climbers must also travel an extremely loose and rocky stretch after the Hillary Step, which has a vast entanglement of fixed ropes that can be difficult in inclement weather.
Climbers will often spend less than a half-hour on "top of the world" before realizing they must descend to Camp IV before darkness falls, afternoon weather becomes a severe issue, or supplementary oxygen tanks run out.
Everest base camp trek cost   
First and foremost, keep the following in mind because your pricing will be determined by it.
How long do you want to journey? - EBC might range from 12 to 16 days on average.
When are you planning on visiting? Peak season costs more than off-season.
Where do you get the trek? Travel agency, online group travel agent, local guide, in-country guide
What kind of adventure do you wish to go on? All-inclusive, guide-only, or self-guided?
The cost of the climb to Everest Base Camp can range from $600 to thousands of dollars. This is the average beginning point for budgeting for the walk-in various forms.
     

Package tour EBC trek with international agency $1500

     

Package tour EBC trek with local agency $1500

     

Package tour EBC trek with Accessible Adventure $1350

     

Independent EBC trek with a guide and porter $1370

     

Independent EBC trek with a guide $1085

     

Independent EBC trek with a porter $930

     

EBC Trek is completely independent $645
Overall, the Everest Base Camp journey is significantly more expensive than other well-known trekking routes in Nepal, such as the Annapurna Circuit or the Annapurna Base Camp trek, due to the high cost of transportation (a return flight from Kathmandu to Lukla).
People in this region make a living through animal husbandry and tourism. As a result, living is difficult in areas with extreme climatic conditions.
 Airways are the sole means of transporting products in this region. In Nepal, airfare denotes hefty transportation costs. As a result, the cost of food, beverages, and other products at this location is slightly more than in other places in Nepal.
The locals are Sherpas, some of Nepal's toughest men who can survive in such harsh conditions.
Culture in Everest
It should come as no surprise that Sherpas have Tibetan influences given their dominance in this area.
Aside from Sherpas, there are also Brahmins and Chhetris in the Everest area. As a result, the area is culturally and spiritually diverse. Tibetan Buddhism is the predominant religion in this region.
Because this location is close to the Tibetan border, Buddhism is expected to have a strong effect. There are various Buddhist monasteries to visit in this area. The most well-known is the Tengboche Monastery.

You might claim that Everest is incredibly cold, and you would be correct. Summer temperatures, on the other hand, maybe rather high throughout the day. During the warmer summer months, the midday temperature might exceed 25 degrees Fahrenheit.
However, temperatures during the day in the summer can drop to an average of 8 degrees in January. Winter temperatures, unsurprisingly, fall below the freezing point of water. When the weather is severe, the temperature might drop below -15 degrees Fahrenheit.
It is impossible to establish a certain temperature on a specific day of the month. This is because the temperatures in the alpine region are variable. A strong wind of up to 12 mph causes weather changes in the mountains.
When planning a climb to Everest, good clothing will come in help. Down coats (complimentary from Accessible Adventure), water-resistant boots, and pants are required for the finest and easiest walking. We'll give you a free T-shirt. Winter hats, gloves, socks, hiking poles, and anti-theft backpacks are all available. Also included are backpack chargers, basic first-aid supplies, water purification pills, a lantern, and a few extra clothing.
Everest Base Camp Trek Itinerary
Day 1: Arrival in Kathmandu (1,338 m/4,390 ft)
Highest Altitude: 1350m
Day 2: Fly Kathmandu to Lukla (2,800 m/9,184 ft) and trek to Phakding (2,652 m/8,700 ft): 9 km/3-4 hours
Trek Distance: 9 Km
Highest Altitude: 28,60 m
Trek Duration: 2-3 hours
Flight Hours: 40 minutes
Day 3: Trek from Phakding to Namche Bazaar (3,440 m/11,283 ft) : 12 km/5-6 hours
Trek Distance: 12 Km
Highest Altitude: 3,440 m
Trek Duration: 5-6 hours
Day 4: Acclimatization Day: Hike to Syangboche (3,780 m/12,402 ft)-Everest View Hotel for acclimatization: 4 to 9 km/3-6 hours
Trek Distance: 4 to 9 km
Highest Altitude: 3,780 m/12,402 ft
Trek Duration: 3-6 hours
Day 5: Trek from Namche Bazaar to Tengboche (3860 m/12660 ft):12km/5-6 hours
Trek Distance: 10km
Highest Altitude: 38,60 m/12660 ft
Trek Duration: 5-6 hours
Day 6: Trek from Tengboche to Dingboche (4410 m/14464 ft): 11km/5-6 hours
Trek Distance: 11 Km
Highest Altitude: 4410 m/14464 ft
Trek Duration: 5-6 hours
Day 7: Acclimatization day at Dingboche: Acclimatization hike to Nagarjun Hill (5,100 m/16,728 ft): 6km/4-5 hours
Trek Distance: 6 km
Highest Altitude: 5,100 m/16,728 ft
Trek Duration: 4-5 hours
Day 8: Trek from Dingboche to Lobuche (4,910 m/16,105 ft) :12km/5-6 hours
Trek Distance: 12 Km
Highest Altitude: 4,910 m/16,105 ft
Trek Duration: 5-6 hours
Day 9: Trek from Lobuche to Gorakshep (5,181 m/16,994 ft) to EBC (5,464 m/17,927 ft) and return Gorakshep: 10km/8-9 hours
Trek Distance: 10km
Highest Altitude: 5,181 m/16,994 ft
Trek Duration: 8-9 hours
Day 10: Trek from Gorakshep to Kalapatthar (5,545 m/18,188 ft) and descend to Pheriche (4,210 m/13,809 ft):12km/6-7 hours
Trek Distance: 12km
Highest Altitude: 5,545 m/18,188 ft
Trek Duration: 6-7 hours
Day 11: Trek from Pheriche to Pangboche to Tengboche and Namche Bazaar (3,440 m/11,280 ft): 15km/6-7 hours
Trek Distance: 15km
Highest Altitude: 3,440 m/11,280 ft
Trek Duration: 6-7 hours
Day 12: Trek from Namche Bazaar to Lukla (2,800 m/9,184 ft.): 19km/6-7 hours
Trek Distance: 19km
Highest Altitude: 2,800 m/9,184 ft.
Trek Duration: 6-7 hours
Day 13: Fly Lukla to Kathmandu (1,338 m/4,390 ft): 35 minutes flight
Day 14: Final Departure. Airport Drop
Everest base camp trekking packages:
Important EBC Trek Tips
Prepare yourself physically.
This journey does not need any expert mountaineering or technical abilities. However, you must be physically fit to appreciate the adventure. To survive the pressure at high elevations, you must have sufficient strength and endurance.
Trekking for 12-15 days continuously is not easy.
You can begin training three to four months before your expedition. Cycling, running, treadmill, and stair climbing can be done for an hour to two times each week. This will assist you in preparing your legs for the walk.
Yoga is another excellent method for stretching and strengthening your muscles.
You may hike around little hills and into the forest. If you don't have access to mountains or hills, consider adding more weight to your backpack and doing longer treadmill walks.
Trekking is significantly different from your everyday life. Yes, physical fitness is crucial, but mental preparedness for the voyage is much more important. You must prepare yourself based on your capacity to adjust to new environments.
Along the way, you'll stay in humble tea houses managed by native Sherpas. As you travel higher in the mountains, the amenities will become more primitive.
You will share a bed with another person. You must request manual warm water, which will cost you extra money. The toilets could not be Western-style, but rather a hole in the ground.
It is preferable to be knowledgeable of the problems and culture of the mountains ahead of time rather than regret it later.
In Kathmandu, you may rent or buy your equipment.
You do not need to bring large luggage and trekking equipment to Nepal. In Kathmandu, you can buy or rent practically every piece of equipment, including trekking poles, caps, gloves, socks, down jackets, and sleeping bags.
Everything is inexpensive. Even though the majority of it is a knock-off of famous names, the quality is adequate for the low price.
However, you may also get high-quality clothing at real outlets. There are more hiking stores in Kathmandu than you can count. The market's high competition benefits you since you may get a fantastic deal on equipment that you would not be able to buy at home.
More costly things, such as sleeping bags and coats, can also be rented.
Will you bring anything from home? Pack merino wool socks/underwear and well-worn hiking boots. These are tough to get by in Kathmandu.
If you do not intend to go on any treks in the near future, you can hire the trekking equipment for a certain amount of time. This manner, you may cut down on unneeded costs. You may instead spend that money on other necessities.
In Kathmandu or Lukla, hire a porter or porter-guide.
While you can carry your own gear, lugging a large weight for hours up in the mountains is challenging. You will need to hire a porter in such an instance.
You may also hire a porter-guide for a bit of additional money. A porter guide is someone who will not just carry your things and accompany you on your stroll. He will also lead you through the trails, speak with bystanders, and offer information about your excursion.
You may hire a porter or a guide in Kathmandu. If you have the time, speak with a few different porters before deciding on one to accompany you on your journey.
You can also hire someone when you get to Lukla by plane. At Lukla, you will come across several expert porters and guides. You will also have the added benefit of interviewing them without having to pay for their flight from Kathmandu.
Details such as trail routes, lodging options, and meals must be carefully considered. You must select someone who is pleasant, likable, and trustworthy. Plus, for $12-$20 per day, you'll be providing someone with a useful job while learning a lot about the local landscape and culture.
Although tipping is not required in Nepal, you can tip your guides and porters at the conclusion of your journey. It is a token of gratitude for their constant advice and support during the journey.
Avoid eating meat while on the journey
You should be aware that porters transport meat up in the highlands. It is due to the fact that no animals are slaughtered in the Sagarmatha National Park. Because Sherpas transport the meat for days, it cannot be guaranteed to be fresh. Furthermore, you are unsure about the correct refrigeration. As you rise higher than Namche Bazaar, it is preferable to avoid meat items.
So, no matter how tempted you are to taste the various types of meat on exhibit, resist.
 Eating the local Nepali Thakali cuisine 'Dal Bhat' is the safest and healthiest option. It's healthy, nutritious, and a terrific source of energy for the hike.
During the afternoons, the sun may be rather severe. Furthermore, the higher you ascend, the more exposed you will be to UV radiation. Dehydration is caused by prolonged sun exposure, which is crucial for your travel.
There may be no shade from the sun when strolling throughout the day. However, you can always reduce the impact of these harmful rays when hiking. Because of this
Use decent sunscreen and reapply it frequently throughout the day. For once, avoid the tan.

Wear long-sleeved clothing, long pants, and a light scarf to protect your skin from blisters.

Dress in layers at all times. While trekking, layering helps you to effortlessly manage your body temperature and be comfortable. It's even better if your layers have zippers so you can regulate your body temperature.

You can also put on a light sun hat. It will protect you from harmful rays as well as headaches.
This is one of your top priorities on the journey. Your body will dry faster at higher altitudes. As a result, you must ensure that you hydrate your body on a regular basis. Drink lots of water and have an extra bottle of water with you when hiking.
Bottled water is available for purchase at tea shops along the walk. You might also bring chlorine or purifying pills. You may then fill your bottle from the nearby streams and purify it yourself.
Bring money from your own nation.
In Kathmandu, there are several ATMs. So acquiring money before the trip should be no problem.
However, as you begin your climb, the only ATM is located in Namche Bazaar. However, there are frequent issues with the ATM.
On any given day, there might be a problem with your card or the machine that prohibits you from withdrawing cash. Furthermore, the amount of cash you may withdraw from most ATMs is limited. As a result, it is prudent not to rely on ATMs at high elevations.
Credit cards are also seldom accepted as a mode of payment in Nepal. For significant transactions, just a few businesses in town may take credit cards.
Almost everything on your journey will be paid for in rupees, including daily food, lodging, porter salaries, and supplies.
 As a result, you must carry a large sum of money from your native nation. When you arrive in Kathmandu, you may exchange it into rupees. You can bring up to $2,000 USD with you without having to disclose anything at customs.
Bring your favorite treats
Yes, sweet Treats!
Many people find it difficult to eat at high elevations. And, because you'll be expending a lot of calories climbing up and down, it's critical to re-energize your body. As a result, it is prudent to include any extra treats, such as protein bars and a bag of chocolates or salty chips.
 In the highlands, there is usually enough food. However, if the altitude is bothering your stomach, these small snacks will come in handy.
You'll also have to pay extra if you want to buy refreshments in the mountains. So, before embarking on the journey, it's a good idea to stock up on some comfort foods. You may save money on such snacks by purchasing them in Kathmandu or Pokhara.
There are several lodging alternatives available on the Everest Base Camp climb. However, because Everest is located in the Himalayas, it is freezing whether you walk in the summer or winter. As a result, you must prepare yourself by clothing in layers and keeping warm.
After supper, most tea establishments turn off their wood stoves. As a result, you may need to request extra blankets from the tea house proprietors. You may also put hot water in your water bottle for the night.
 Remember to bring a four-season sleeping bag with you whenever you embark on this hike.
Allow yourself plenty of time.
When taking on a challenge like the Everest Base Camp Trek, keep in mind that it is not a race.
Acclimatize thoroughly! Acclimatization to the low oxygen levels in the highlands takes time and patience. Your body requires time to adjust to the shortage of oxygen.
 More acclimatization equals a more secure and comfortable hiking trip. In addition, there is a modest danger of altitude sickness. This is crucial to a successful expedition.
 You can also take an extra rest day if necessary. If you hire your guide and porter for an extra day or two, they will not object.
It is not stated that you must walk at a rapid speed while on your expedition. You should be alright as long as you walk without overexerting your body and mind.
 Treks on Everest are flexible if booked in Kathmandu or when you reach Lukla.
Bring treats for local children
You will be traveling along paths that will take you to various small towns and villages along the way. You will come across welcoming teahouse proprietors, friendly people, and little children.
 You can bring a few unique items for the local youngsters if you have some spare space in your suitcase. Crayons, colored pencils, books, markers, coloring books, chocolates, or tiny toys are examples of acceptable items.
Any modest presents you bring would be much appreciated by the youngsters.
Additional Suggestions
You can bring a book to read in the evenings when you wish to rest on the bed. A decent book will keep you engaged and prevent you from being bored on the trip.

Allow for an extra day or two in your plan. You never know when your flight will be delayed due to the weather.

Even if you fail to carry something essential, Kathmandu has everything you need.

Keep an eye out for symptoms of altitude sickness, such as headaches, dizziness, insomnia, lack of appetite, and shortness of breath.

Make careful to arrange your trip with a reputable travel agent to ensure a smooth voyage. A trekking company has the benefit of organizing everything for you. They will handle airport transportation, lodging, porters and/or guides, and insurance.

Inform your guide if the altitude is giving you a headache that is becoming worse. It is best to halt rising in such a circumstance. In an emergency, descend from where you are.

Respect the local customs by keeping the prayer flags to your right at all times.

The Everest Base Camp trek is a moderate hike in Nepal's Khumbu area. The harsh weather and high altitude will surely provide several challenges on your trek. So, if you follow these Everest Base Camp trekking guidelines, you will have a much easier trip in the foothills of the towering snow-covered peaks.
Conclusion
The region around Everest can be reached in a number of different ways. The duration of the trip is dependent on both the number of destinations that you plan to visit and the amount of time that you have at your disposal. The region around Everest is located at a very high elevation. You need to go at a conservative pace and give your body plenty of time to adjust to the higher altitude because it is over 3,000 meters. Additionally, the importance of sleep cannot be overstated. Additionally, in order to get your body ready for the hike that lies ahead of us on the following day, you might want to add some simple workouts and stretches into every part of our vacation.
Before setting off on an adventure, it is recommended that one perform a thorough investigation into everything that one needs to know in order to prepare for the experience. You will be ready for everything that may come your way if you proceed in this manner. In addition to that, it takes into account the climate and the elevation. Additionally advised is the use of a checklist to keep track of all goods and activities.
Tell us about your trip to Nepal and the experiences you're hoping to have there. We will react to your questions within twenty-four hours and help you plan a holiday that includes a pleasant itinerary that is tailored to fit your requirements in the best possible way. It is something that we take great pride in. Accessible Adventure has been operating as a business for more than 12 years, and the individual travel experiences of our guides total more than 25 years. We will do everything in our power to cater to all of your Everest-related requirements and questions.