If this is your first trek in Nepal, you're definitely thinking of one of the traditional routes. If so, I'm sure you're wondering: Which trek should I do: Everest Base Camp or Annapurna Circuit?
For a reason, these two treks are the most popular in the Himalayas. The view is magnificent in both circumstances. Most of the time, you're surrounded by the world's tallest mountains, the snow-capped peaks of the Himalayas. Furthermore, regardless of the option you select, considerable infrastructure makes planning simple, especially if this is your first multi-day high-mountain climbing experience. In summary, the decision is not simple.
The Annapurna Circuit Journey is a famous trek around the globe that gives spectacular views of the world's tenth highest mountain, Mount Annapurna, as well as Mount Dhaulagiri, Mount Manaslu, and Mount Machhapuchhre. This walk will take you from subtropical to alpine forests through the various beauty of the Annapurna area. You will get the opportunity to engage with individuals of all castes and ethnicities.
It begins in Chamje and travels to the most popular destinations such as Manang and Mustang through the rice paddy valley, Buddhist villages, and the Kali Gandaki river bed. The Kali Gandaki River is the world's deepest river gorge. You will travel to a biodiversity-rich region with a diverse assortment of natural plants and creatures.
In contrast, the Everest Base Camp trip is one of the most difficult treks in Nepal, taking you to the highest base camp in the world, Everest Base Camp. It's always been a trekker's fantasy. Many trekkers want to walk in the footsteps of Tenzing Norgay Sherpa and Edmund Hilary, the first people to reach the summit of Mount Everest.
The Everest Base Camp Trek begins with a picturesque flight to Lukla, the entrance to the Everest region. This journey will take you to some of the most famous Everest area destinations, including Namche Bazar, Tengboche, and Gorek Shep. This hike will allow you to see Tengboche Monastery, the biggest in the Khumbu area. Along with this, the main attraction of the walk is going up to Kala Patthar, which provides a spectacular view of Mount Everest, Mount Lhotse, Mount Ama Dablam, and other adjacent peaks.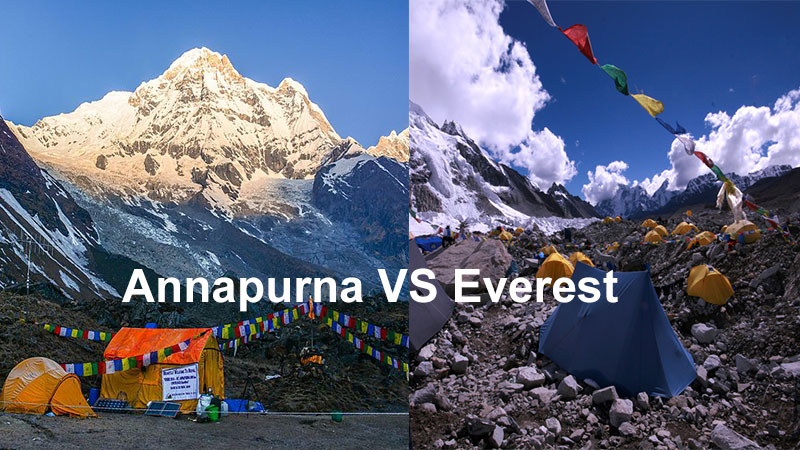 Analyzing the Annapurna Circuit Trek and the Everest Base Camp Trek
The Annapurna Circuit Trek and the Everest Base Camp Trek are particularly popular among trekkers all over the world. However, while choosing between these two climbs, the Everest Base Camp expedition takes precedence over the Annapurna Circuit journey. This is also dependent on the decision and desire of a certain sort of trekker. Trekking in the footsteps of the world's highest mountain is every trekker's ambition, which is why it outranks the Annapurna Circuit Trek. However, the Annapurna Circuit Trek is visually appealing in its own right. It's both exhilarating and difficult. The number of trekkers hiking to the Annapurna Circuit is comparable to the number of trekkers going to Everest Base Camp. The highest point of the Everest Base Camp walk is 5545 meters at Kala Patthar, whereas the highest point of the Annapurna Circuit Trek is 5416 meters at Thorung La pass. This is one of the most demanding and fascinating aspects of the Annapurna Circuit trek.
Because the Annapurna region offers more diversified vistas than the Everest region, the Annapurna Circuit Trek is a popular trekking destination among many hikers. If you are a novice to hiking, it is advised to start with the Annapurna Circuit before moving on to the Everest Base Camp.
Getting to The Annapurna Circuit Trek vs. Everest Base Camp Trek
It is simple to go to the Annapurna region. You will travel by local car for around 8-9 hours from Kathmandu to Beshisahar and then to the small settlement of Chamji. Your trekking adventure officially begins at Chamji. You will walk from Chamji to Dharapani and then to the locations included in your itinerary.
Similarly, your Everest Base Camp expedition begins with a picturesque flight from Kathmandu to Lukla. Your flight will be a wonderful experience. You will go from Lukla to Namche Bazar, a bazaar where you may buy mementos for your family and friends. You might alternatively begin your walk by taking the traditional path to Jiri. You can stroll from Jiri to Lukla before beginning your hiking adventure.
Which trekking requires the least amount of preparation?
1.1 Everest Base Camp and Annapurna Circuit Trekking: Body Training
There is no difference in preparation between the two. You should prepare your body, especially if you intend to carry your own bag. Going for long walks and using the stairs instead of the elevator will be quite beneficial if you do not exercise frequently.
1.2. Packing for Everest Base Camp and the Annapurna Circuit
The packing list is nearly the same. We recommend packing the same stuff for both trips because the weather, altitude, and route length are so comparable.   The same travel insurance covering trekking up to 5,500 m above sea level is necessary for both circumstances.
1.3. Winner
Regardless of which route you pick, physical conditioning and packing remain the same. As a result, we have the first tie.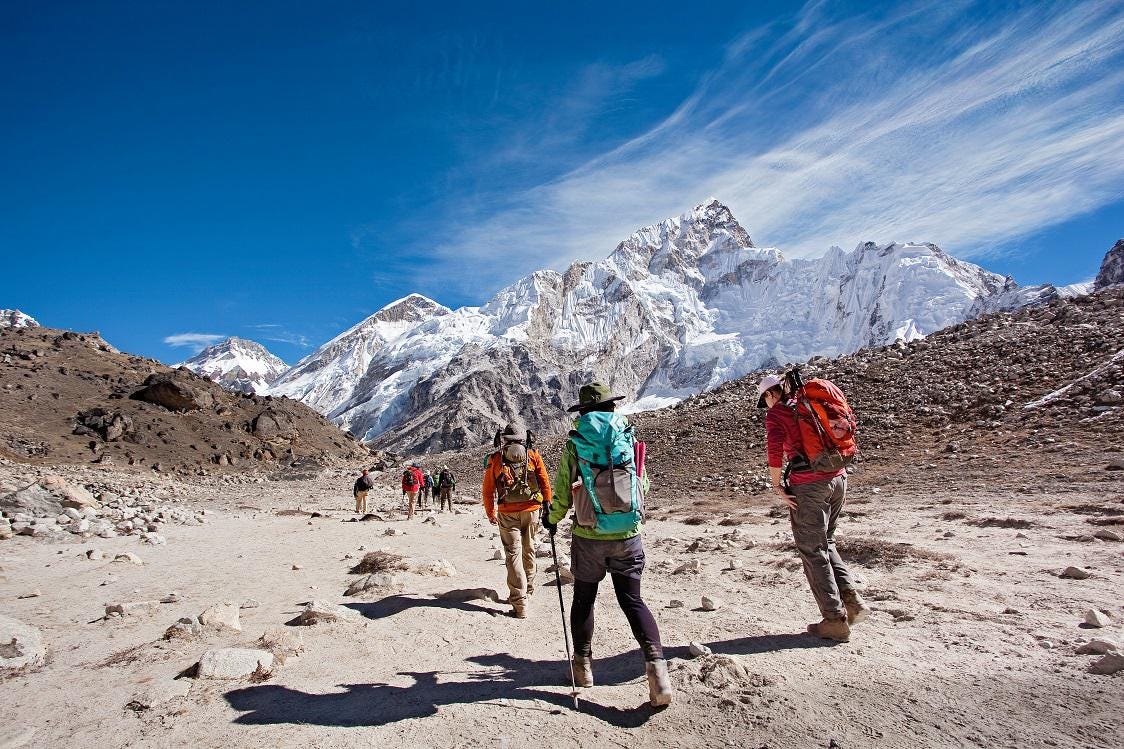 What is the bare minimum of days needed to finish the treks?
Isn't the duration of your trip a crucial consideration when arranging a trek?
(2.1) Everest Base Camp
In terms of the EBC trek journey, if you select the most common route and fly to Lukla to begin the climb, a minimum of 12 days is normally necessary. This covers the flight to travel from Kathmandu to Lukla and returns, the trip itself, and two suggested acclimatization days to acclimate your body to the thinner air at higher altitudes.
(2.2) Annapurna Circuit 
The answer is a little more complicated when it comes to the Annapurna Circuit trip. Because of the recently constructed road and proximity to the Jomsom airport, you may traverse a considerable portion of the journey by bus, jeep, or even fly. As a result, the minimal number of days is 9, which is a bit excessive because you'll end up wasting 4 days of your vacation staring out the bus window - not for me, thank you:). As a result, the suggested minimum number of days ranges from 12 to 16 days. This time period covers the trip from Kathmandu to the starting site and return the trek itself, and the acclimatization days.
(2.3) The victor
If you only have a limited amount of time, the Annapurna Circuit may be a better alternative due to the variety of transportation choices, which allows for more flexibility in your plans. Most of the time, you can go back to civilization by jumping on a jeep or bus. You should keep in mind, however, that trekking the full fabled path around Annapurna would be impossible if you have fewer than 16 days. To summarize, no matter what journey you select, you should always prepare for an additional day or two while organizing your adventure. I know it's easier said than done because every single day of your vacation is valuable - especially when arranging your yearly break. But believe me when I say you will not be sorry. Keep in mind that high mountain experiences are often unexpected owing to weather and the needed acclimatization period, and you are about to go on a journey in the world's highest mountains!
How difficult is it to travel to the treks' beginning points?
(3.1) Everest Base Camp 
Most visitors to Everest Base Camp take a short but spectacular 30-minute flight from Kathmandu to Lukla. At first look, the answer appears to be excellent. Flying to Lukla was, in reality, a breeze for me. Unfortunately, it is not always so simple. When organizing your journey, keep in mind that flights to Lukla only take place in the early morning and only when the weather is steady, which is not always the case at high altitudes. In reality, Lukla is about 3,000 meters above sea level. Flights are frequently canceled owing to dark clouds, high winds, and snowfall. As a result, there may be considerable delays. Flights are often only restarted after many days. You see why I recommended having a few additional days while preparing now, don't you?
Furthermore, you've surely heard that Lukla airport is sometimes regarded as the most dangerous airport in the world because of its extremely narrow runway and little room. Even though only light planes are authorized to fly to Lukla, the limited runway allows for very little space for pilot mistakes. If you are terrified of flying, you will not like it. However, when planning your EBC expedition, avoid thinking about this too much because, statistically speaking, flying is the safest mode of transportation. On the other side, you can reach Lukla by land, but this would add at least four days to your journey. You must first take a bus to Jiri or Shivalaya before beginning your walk.
(3.2) Annapurna Circuit 
The Annapurna Circuit walk begins at Besisahar, which is located between Kathmandu and Pokhara. It is accessible by bus or minibus from Kathmandu. By local transport, it took me 7 hours to get there. Although taking public transportation in Nepal is a memorable experience, the journey's comfort is never the best. If it is an issue for you, you should probably rent a private car with a driver instead.
It takes around 5 hours by bus to go from Pokhara to Besisahar, but you must first arrive to Pokhara. If you have limited time, I would recommend traveling directly from Kathmandu rather than through Pokhara. If everything goes as planned and you still have time, you may always visit Pokhara following your hike. Without a doubt, it's a fantastic location to unwind after a long day of hiking.
3.3. The victor
Overall, I believe it is simpler to travel to the Annapurna Circuit's starting point now that transportation alternatives are more dependable.
Which route requires the least amount of physical effort?
The overall level of difficulty and safety.
In terms of the highest point reached, both journeys are comparable. The Everest Base Camp is located at an elevation of 5,364 meters, although the highest point on the Annapurna Circuit walks, Thorong La Pass, is only 52 meters higher, at 5,416 meters.
(4.1) Everest Base Camp 
The risk of altitude sickness appears to be significantly increased if you pick the EBC journey. Acclimatization will be more challenging if you take a direct trip to Lukla. Furthermore, you will walk above 4,000 m for half of the course (6 out of 12 days). In short, you will spend more time at higher elevations.
(4.2) Annapurna Circuit 
On the other side, if you drive the initial portion of the Annapurna Circuit, you'll go quite high very soon. Regardless of how you cross the first section of the trek (I hope on foot), the Annapurna Circuit is lower in height and hence safer. This is due to the fact that the route only takes you over 4,000 m for three days. To be clear, high altitude should not be instantly connected with altitude sickness. You should have no problems if you take the time to fully acclimatize your body. Nonetheless, increased altitude results in less oxygen in the air, making breathing more difficult. A step made at a greater elevation is always more difficult than one taken in the lowlands.
(4.3) The victor
Both excursions need little technical knowledge or climbing abilities. The walkways are spacious and secure for walking. Because there is no road connecting the Everest region to the Annapurna region, it is more isolated. In the event of an emergency, helicopter rescue from either zone can be organized. You just need to ensure that your insurance covers this type of circumstance before embarking on your journey, or you may wind yourself paying a hefty fee.
To summarize, the EBC trip increases the risk of altitude sickness. Furthermore, the return to "civilization" from the Annapurna region is easier than from the Everest region because travel by land is available owing to the road. The Annapurna Circuit is a little easier and safer journey overall.
Food and lodging for the ACT and EBC Trek

Trekking the Annapurna Circuit
Along the approach to the Annapurna Circuit, there are several teahouses and eateries. The majority of teahouses will supply you with minimal amenities. However, teahouses in the Annapurna region provide a wide range of cuisine options. Local foods such as Dal Bhat and Tarkari are available, as are foreign foods such as pizza, burgers, oatmeal, sandwiches, spaghetti, and many others.
The accommodations in the Annapurna circuit are fairly adequate. You will be given extra blankets to keep you warm. However, the restrooms are pretty poor. The majority of teahouses may not have appropriate restroom facilities. As a result, it is preferable to carry your own toiletries.
Trek to Everest Base Camp
There may not be as many teahouses and eateries along the route to Everest Base Camp as there are on the Annapurna Circuit. Most teahouses close during the off-season trekking season, making it difficult to find a suitable teahouse or lodge.
Although there are fewer teahouses along the route to Everest Base Camp, you will be astonished at the amenities they give even in such a remote location. The accommodations are simple yet enough for a decent night's sleep. Breakfast staples such as eggs, oatmeal, and bread are popular, as are typical national foods for lunch and supper. During high seasons, you may also have to share a hotel if you hike to Everest Base Camp. As a result, it is preferable to reserve your dining and lodging facilities ahead of time.
Acclimatization: Annapurna Circuit Trek vs Everest Base Camp Trek
Acclimatization is essential while trekking to high altitudes to avoid altitude sickness. This allows you to relax and adjust to your surroundings, which will aid you in rising to a greater altitude.
Everest Base Camp Trek Acclimatization
Your 14-day trip to the Annapurna Circuit includes two acclimatization days. The first acclimatization day takes place at Namche Bazar, which is 3441 meters above sea level. You will explore the Sagarmatha National Park and Khumjung Valley as part of your acclimatization before going to Tengboche and higher.
The second acclimatization day is at Dingboche, which is at an elevation of 4410 meters. On this day, you will tour the valley. This day will prepare you for the ascent to NangkarTshang at an elevation of 5616 meters.
Day of Acclimatization on the Annapurna Circuit Trek
Altitude sickness is a common hazard for trekkers on the Annapurna Circuit over 3500 meters. As a result, at least one day of acclimatization is required for this journey. You will spend one day of acclimatization at Manang on your 18-day Annapurna Circuit trip. On this acclimatization day, you will visit the district's largest settlement. Acclimatization in Manang will prepare you for a higher-altitude walk to Thorong Phedi (4450 m).
Crowds -  Annapurna Circuit Trek vs Everest Base Camp Trek
Who could be interested in this: Hikers who love being alone in the bush and become frustrated while waiting in lines or passing slow-walking trekkers. Others may feel more secure if they are accompanied by fellow walkers.
The Annapurna Circuit It was peaceful at first, then packed at the Thorong La Pass, and then quiet again.
Because so much distance is traversed each day at the start of the climb, trekkers are few and far between.
 The path becomes busy in the middle of the Circuit, around Chame and Upper Pisang settlements. Because you're traveling short but arduous distances, the elevation spikes here produce bottlenecks.
  The most congested areas of the Annapurna Circuit are around Thorong Pedi, on Pass Day, when everyone departs for Thorong La Pass at the same time, and at the pilgrimage site of Muktinath.
  The path becomes quiet again after the transit center of Jomsom since many tourists prefer to fly or take a bus or jeep back to Pokhara.
The Everest Base Camp Trek is more crowded than the Annapurna Circuit.
You may enjoy the quiet before the storm if you start your walk from Jiri or Salleri. You'll stay in rural communities and encounter a few hikers as well as donkeys transporting products to mountain settlements. The storm has arrived in Lukla. The entire EBC trip would be busy for hikers that fly into Lukla. The path is shared by tour groups after tour groups, as well as several yak and donkey trains.
When you arrive at Everest Base Camp, be prepared to push your way through the crowd to take a photo. Because the EBC trip is one way up and one way down, you'll see the same throngs on the way down straight until the end.
Landscapes- Annapurna Circuit Trek vs Everest Base Camp Trek
Who could be interested in this? Photographers who desire to capture a range of sceneries when trekking, not only mountains. Trekkers love seeing the diverse colors of the landscape, plants and animals, and settlements every day.
Annapurna Circuit Trek
The Annapurna Circuit begins in a lush valley with little towns dotting the mountains covered with agricultural fields. Except for the past day, you'll be walking alongside a glacier-blue river for the duration of the hike. Hiking will take you through waterfalls, alpine wildflowers, yaks, and several settlements.
Traveling along the Circuit from Jomsom exposes you to a variety of landscapes, such as a large river basin, traditional towns, and even hot springs at Tatopani. The vista from Poon Hill on the final day of the walk is gratifying, with several of the Himalayan peaks visible for the last time.
 Mount Everest Base Camp 
The Everest Base Camp area begins with flora near Lukla as well (even more from Jiri and Salleri). While there is a significant river here, you won't see much of it until you cross the bridge to Namche.
The communities are densely packed with white, blue, or green-painted guesthouses. With all of the blocky structures nestled in the narrow valley, Namche Bazaar is the jewel in the jewelry box.
After Namche Bazaar, the terrain becomes more rugged, with gray and white vistas as you go above the tree line. As you walk on gravel from ancient glaciers and past large rocks, the mountains are extremely in your face.
Navigability- Annapurna Circuit Trek versus Everest Base Camp  Trek 
Who would be interested in this: People who are 'directionally challenged' or have a strong fear of getting lost.
Aside from Pass Day, the Annapurna Circuit trek nearly entirely follows a river. If you are lost, as long as you know where the river is in relation to where you are, you'll be able to find civilization. Because there are communities on both banks of the river, the route occasionally switches sides, which can be confusing.
The commercialization of the Everest Base Camp trip, particularly from Lukla, makes it nearly difficult to ignore. For starters, there are people everywhere on the walk, and each hamlet has only one street leading to the next destination. The Everest Base Camp trip stays on one side of the river, and the paths are always broad.
Because of the well-worn pathways and the ease with which you may follow the throng, the EBC is a simpler trip to traverse than the Annapurna Circuit.
Safety- The  Annapurna Circuit Trek vs Everest Base Camp Trek
Who might find this interesting: Everyone in the mountains should be concerned about their personal safety. People who are prone to illnesses or accidents, or who have previously gotten ill when climbing at altitude, should take extra precautions.
Don't be concerned about your safety in the mountains, whether it's getting lost or suffering from altitude sickness. On both the Annapurna Circuit and the Everest Base Camp excursions, you'll never be far from assistance.
Before you leave, be sure you have insurance.
The Annapurna Circuit has one characteristic that the Everest Base Camp Trek does not: a jeep road that connects the majority of the Circuit. If you're sick or injured and need to reduce altitude without a helicopter, a jeep on the AC may transport you. It's a donkey on the EBC.
Both areas have helicopter evacuations available, however, they are more difficult to get in the Everest Region. You might have to wait for a day or two in the Everest region for the weather to clear enough for a helicopter to arrive and fetch you.
Everest Base Camp Trek vs. Annapurna Circuit Trek (Final Results)
Cost - Annapurna Circuit 
Accessibility - Annapurna Circuit 
Comfort/Facilities - Everest Base Camp  
(Fewer)Crowds -  Annapurna Circuit
Cultural Experiences - Annapurna Circuit
Difficulty - Tie! Certainty in Annapurna Circuit and Everest Base Camp 
Itinerary Certainty- Annapurna Circuit
Landscapes (Instagram-worthiness) - Annapurna Circuit 
Navigation - Everest Base Camp 
Expertise (bragging rights) - Safety at Everest Base Camp 
Side Treks- Everest Base Camp
The summary of Everest Base Camp Trek or Annapurna Circuit Trek.
If we look at the overall score, the Annapurna Circuit is a clear winner for your first Nepal trip. For starters, it is a less physically taxing and less congested path. Second, the scenery is more diversified. Third, because there are more transit alternatives, it is easier to arrange. Finally, despite the increased frequency of hot showers, their total cost is cheaper.
However, not all of the elements taken into account will be equally important to everyone. If you've wanted to reach the base camp of the world's tallest peak since you were a youngster, don't overthink it and simply follow your heart. That is exactly what happened to me. After much study and analysis that pointed me toward the Annapurna region, I ultimately opted to visit Everest Base Camp. When I went back to the Himalayas a year later, the decision was considerably easier...
Finally, the decision of which trip to do is not as critical as it may appear right now. During your first journey, the Himalayas will most certainly steal your heart. In that scenario, you will return to Nepal as soon as possible. As a result, it makes no difference whether you select the Everest Base Camp or the Annapurna Circuit because you will end up doing both.